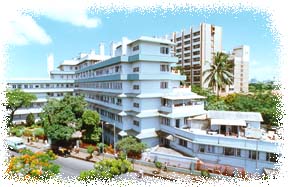 Tata memorial Hospital
Surgery remains the best modality, either by itself or in combination with adjuvant treatments in solid tumors. The Department of Surgery brings to bedside the best diagnostic acumen coupled with the state-of-art surgical expertise. Development of superspecialty services in Head and Neck, Breast, Reconstructive surgery, Thoracic, Gastro-intestinal, urology/gynecology and bone/soft tissue oncology has further improved the technical excellence in each specialty over the last 15 years. Judicious use of Laser, micro-vascular techniques and multi-modal therapy has increased organ preservation leading to a remarkable improvement in the quality of life without compromising on cure rates.
The vast experience of over 9,000 major and 14,000 minor surgical procedures every year has brought an unmatched excellence to the department. In addition to being a pioneer in the field of surgical oncology in India, the department has a strong clinical and laboratory aptitude. It has carried out clinical studies relevant to India, e.g., Prophylactic management of N0 neck in cancer of oral tongue, Antibiotic prophylaxis in thoracic oncology, role of BCG in urinary bladder cancer and comparison of quality of life in esophageal cancer treated with surgery and radiation. Collaborative efforts between the clinic and laboratory have explored tumour biology, host immune response and their interaction with treatment modalities.