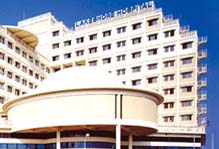 Surgical Oncology
Surgical Oncology department maintains international standards in cancer surgery. Equal emphasis is given to cure and post-surgery quality of life by organ preservation and various types of reconstruction.

Specialized areas: -
Breast reconstructions – both primary and delayed.
Micro vascular surgery for head and neck cancer reconstructions and conservative approaches for craniofacial resections.
Limb salvage surgery with mega prosthesis for bone cancers, conservative lung surgeries and chest wall reconstructions.
Three-field lymphadenectomy and total esophagectomy for esophagus cancers.
Total peritoniectomy for peritoneal malignancies.
Sphincter preservation and organ preservation in various Gastro intestinal cancers.
Sr. Consultant – Dr. Thomas Varughese MS, FICS, FACS.
Dr. Thomas Varughese is a distinguished Cancer Surgeon, trained at the premier cancer hospital in India – The TATA Memorial Cancer Hospital, Mumbai. He has gained extensive experience of cancer surgery from the best cancer institutes abroad like Sloan Kettering Cancer Center (world's biggest cancer hospital) – New York (USA); M.D. Anderson Cancer Hospital – Houston, Texas (USA); Johns Hopkins University – Baltimore (USA); George Washington Hospital – Washington D.C. (USA); Peter Mc Callum Cancer Hospital Melbourne – Australia etc., to name a few. He was heading the Surgical Oncology department of Medical Mission Hospital, Kolenchery prior to joining Lakeshore.